Drought Relief Discount Announced by Sweetpro & Agri-Best Feeds
RSweetPro and Agri-Best Feeds have instituted a Drought Relief Discount of $80/ton on qualifying SweetPro orders delivered to ranches affected by the D2-D4 drought according to the U.S Drought Monitor – droughtmonitor.unl.edu. The Drought Relief Discount is effective immediately and will continue on qualifying orders through the month of August.
SweetPro is a complete supplement that not only fills in the gaps where the grass is lacking; it also helps cattle break their forage down better, resulting in cattle performing better on LESS grass. SweetPro's nutritionist, Abe Scheaffer Ph. D., states, "The digestible fiber in SweetPro helps extend the use of a pasture, whereas the sugars in molasses or starches in grain increase forage consumption."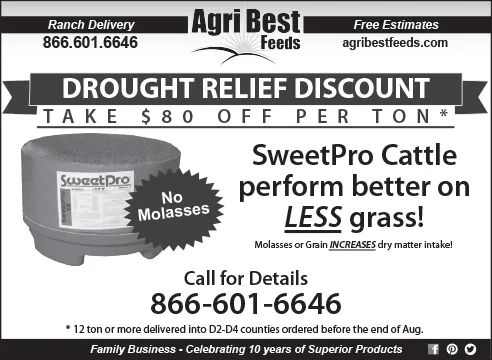 All of the SweetPro blocks are made up of 3 main components: 1) A great vitamin and mineral package (50% of the trace minerals, i.e. Zinc, Copper, and Manganese, in SweetPro are organically complexed making them very bio-available to the animal); 2) DDGS & CDS (multifaceted value of distillers grains and condensed distillers solubles, which are complex carbohydrates, and are high in protein and energy); 3) ProBiotein (a powerful digestive aid of fermented wheat, oats, barley malt, and flax that naturally includes a wide array of enzymes and prebiotics including MOS). Together, these three components help cattle break down their forage up to 25% better.
Scott Anderson of Agri-Best Feeds said, "One of the ways that we meet our goal of enhancing ranchers' profitability is through true feed efficiency. Most supplements in the marketplace are molasses or grain based, which tend to stimulate appetite so the cattle eat MORE. SweetPro is 180 degrees from that. SweetPro breaks down the forage that the cattle are eating more efficiently, and cattle perform better on LESS forage. This true feed efficiency is important all of the time, but critical in drought situations!"
"We know that our customers are hurting, and we need to do what we can to keep them in business," concluded Scheaffer.