Tell Us Your Story!
Have some spectacular results with Sweet Pro, EquiPride/EquiLix, Redmond Natural, and/or Arrowquip? Use this easy form to send us your story, before and after pictures, and even video. We'd love to hear from you!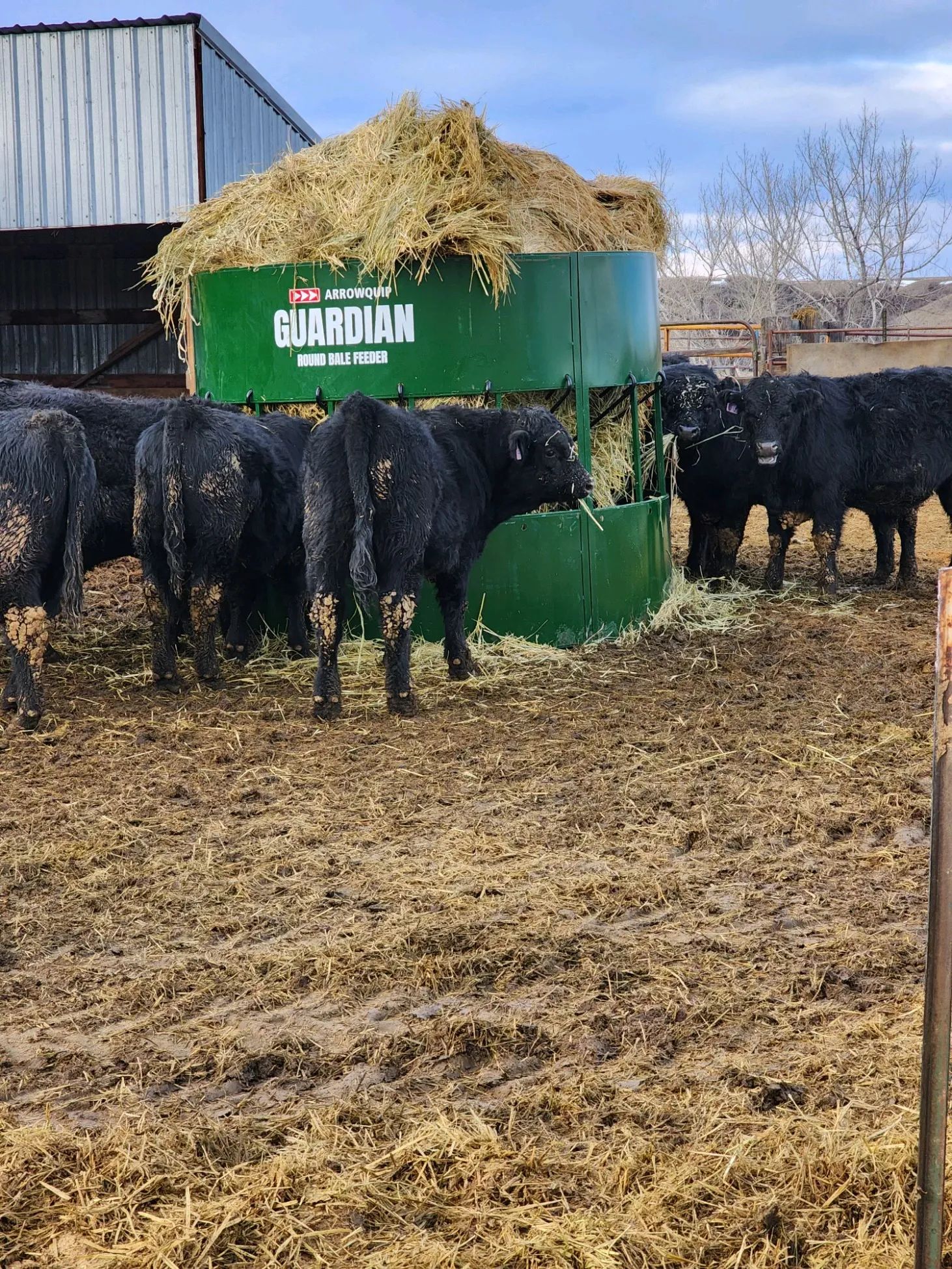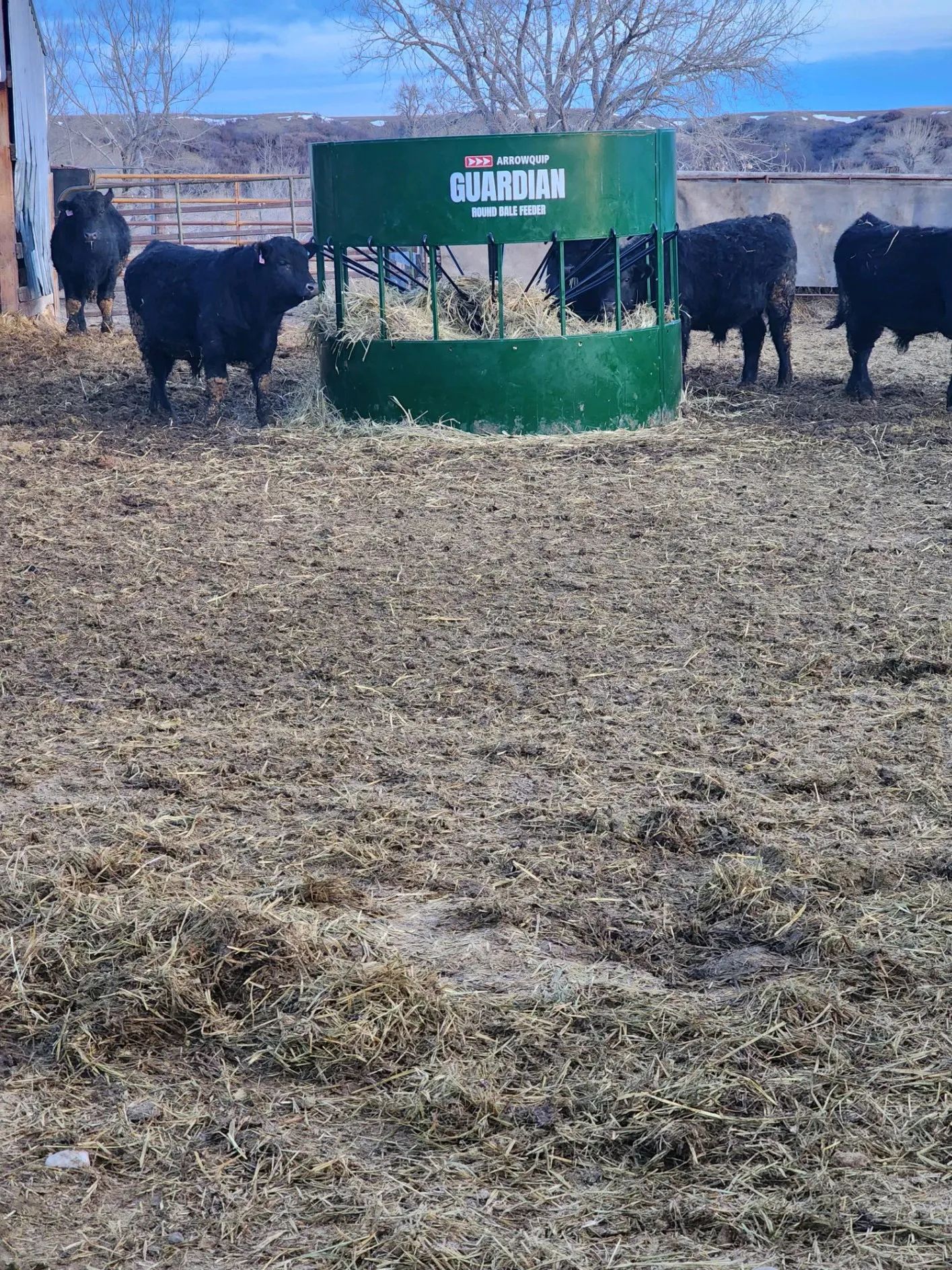 "These Guardian Bale Feeders really work! A lot less waste over my old feeder."
Cody Schwend - St. Xavier, MT
"The cows were lined up along the south fence. They weren't starving, but obviously discontent. With the dry conditions they were just going to have to stay put longer than usual. Mostly out of sympathy I hauled out some Magnums SweetPro tubs, within a couple of days the cows were lying around, chewing their cuds. As evidence by body condition the cow's protein - mineral requirements are being met - certainly more grazing days per acre. Daily consumption of about 1 pound per head per day is holding steady. I believe the 20 to 25% enhanced forage digestibility is a legitimate claim. The tubs are proving to be a cost effective means of stretching forage."
Cliff Quick - Callaway NE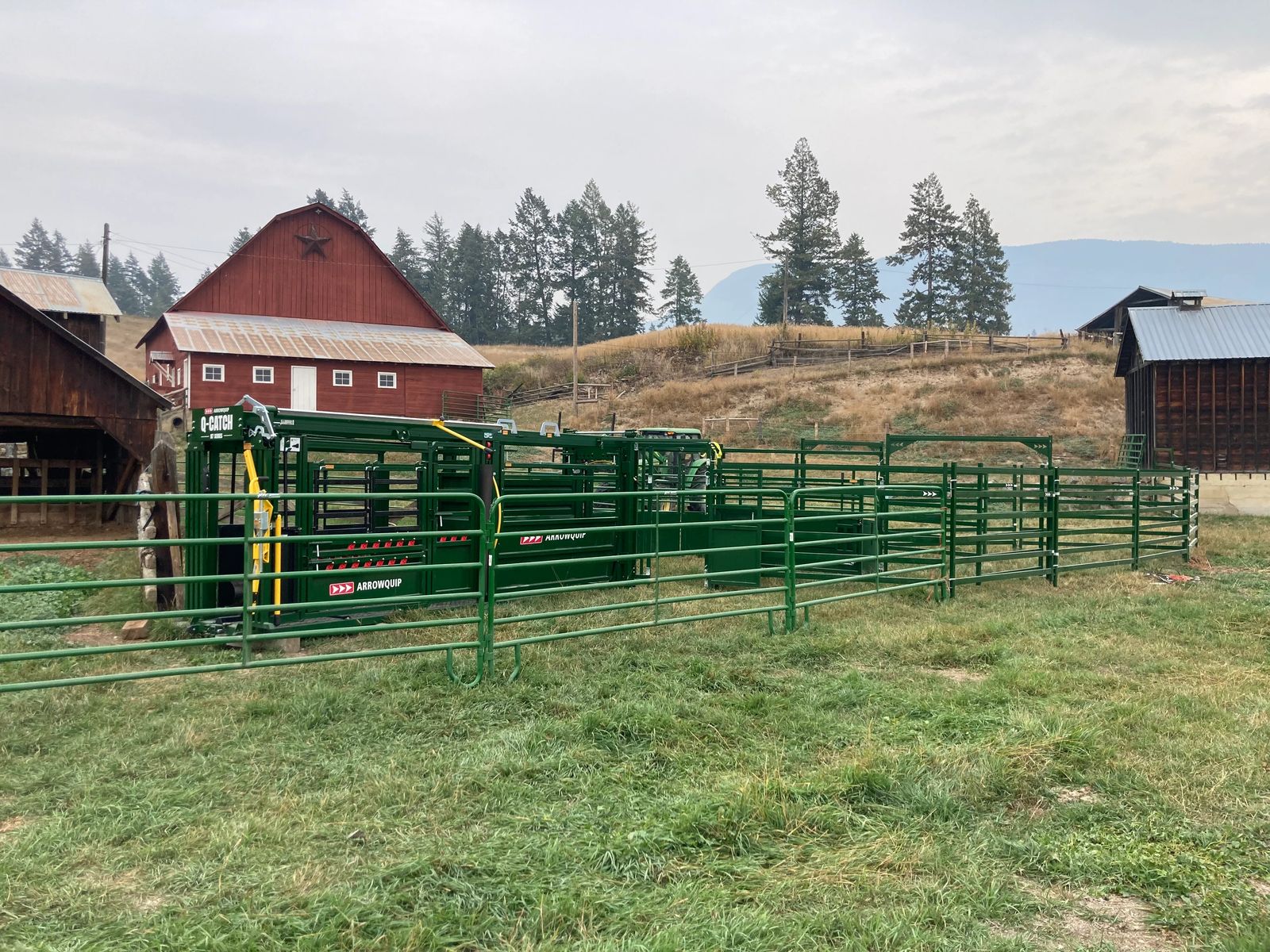 "The Arrowquip system continues to be a game changer for us. Pregged 80 cows, tagged 6, bangs vaccinated 10 in 2 hours with 4 people plus a vet and an assistant. Money saved on not feeding 6 culls alone the next 6 months is good return.--"
Jeff Hood - Houck Brothers, LLC Bonners Ferry, ID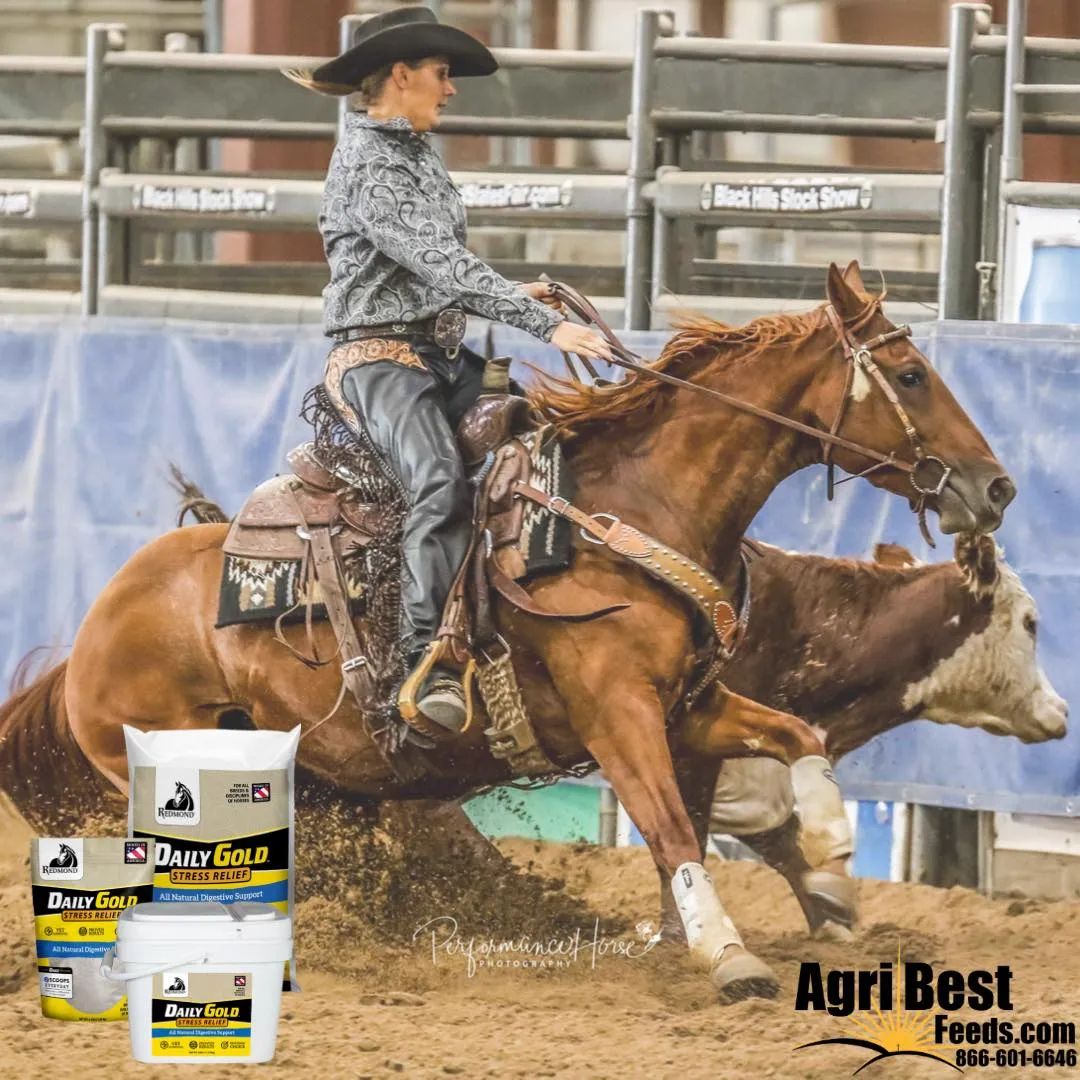 "Having horses with ulcers is frustrating. After doing expensive omeprazole treatments on my horses, I was looking for something to help prevent the ulcers from coming back. Daily Gold has helped my horses more than I ever thought it could! Some of our horses would get loose stools just from hauling or a hay change, now since they are on Daily Gold they no longer have that problem. It's made a huge difference in our two and three year olds attitude and appetite while in training. Even our picky eaters have no problem with adding Daily Gold to their grain. It's so affordable and easy to use, we put all our horses on it. It's definitely worth trying!"
~Lisa Robinett
5 time AQHA All around nonpro champion, 3 time reserve champion. SDRCHA stallion stakes Non pro Futurity and Derby champion, 3 time Nile Gold buckle futurity champion
The AgriBest SweetPro products have given us access to quality products and that allows our cattle to get the most out of every bite. Also by utilizing the Redmond products we can add trace minerals that the cattle are lacking in an all natural product with the Redmond mineral salt. The Redmond Conditioner has also helped use during the backgrounding phase to help bind toxins in feed such as mold and it helps the animals utilize the gas in their rumen better which helps Tremendously with bloat. By using these products we have seen a lot of benefits not only in the cow-calf and background phase but in the finishing phase. Our cattle Consistently perform well in the feedlot not only with how they perform on the grid but how they convert feed. This has kept us in the green in years when many other cattle were losing a Substantial amount of money per head.
I attribute at least some of this to the products we get from Agribest. Since switching to AgriBest Products we have seen improvement from birth to finish.
Vince Guthrie - Guthrie Cattle - Alma, NE
First and foremost I would like to sing praises to my dealer, Kelsey Martin (Zammer Co) in Washington State. Not only is his customer service amazing, but he is highly knowledgeable in the product.
I have a friend who suggested I try Equilix for my one TB gelding due to his typical TB pie plate hooves. I have 5 horses and two who I've been frustrated trying to figure out a feeding program.
At first, I must admit I was a bit skeptical, however, now....I would like to highly commend your product line, Equilix for the following reasons:
25 year old Mare - Her coat was starting to get long even through the summers. She is now shiny, short coat and can take me up the mountain to the 5,000' elevation on trailrides without stopping.
15 year old TB gelding - We have been fighting with lameness issues for years due to chronic abscesses and weak soles. His abscesses have cleared up, his coat is slick and shiny, and the lameness issues have dissipated.
19 year old gelding - My favorite show horse developed Leptospirosis from contaminated feed roughly 7 years ago. He has been permanently blind from it. His coat was dry, dull and long. It didn't matter what I fed him nothing really helped his coat. Since feeding him the Equilix, his sight has been coming back in the left eye, his coat is slick & shiny! I'm thrilled to actually want to ride him again.
15 year old TB mare - She is extremely shiny and her temperament evened out. She is no longer a hormonal queen.
15 yr old NSH Gelding - His coat is slick, shiny, and he is no longer a jackwagon.
All of their hooves have drastically improved and my farrier is amazed...even with the TB Gelding.
No response is needed. I always believe in giving commendations to products that are outstanding and work beyond expectations.
-Kim Irwin - Ferndale, WA
I started using Redmond Conditioner in early 2021. I have a backgrounding yard in which I specialize in Bull development. I also feed replacement heifers and feeder steers. I have been developing bulls for almost 30 years.
A lot has changed during that time especially when it comes to the genetic potential and performance of the cattle that are being fed today. Maximizing performance along with building muscle, structural soundness and fertility in bulls has always been our goal in the development process.
This development process has always come with its challenges. One of these challenges has always been overeating disease. A real issue can be early on in the starting on feed process and that is over consumption of feed stuffs resulting in a low level of acidosis and thus a quick bloat situation and usually death. All of this happens fairly fast without a lot of notice.
I have tried to manage this problem several ways over the years but have never really found a solution. In conversation with Dwain Hould from Agri-Best he suggested I put Redmond Conditioner in my TMR at a 4oz. level for three weeks and move to a 2 oz. level after that. I continued the 2 oz. level for the rest of the feeding season.
Dwain explained to me that the conditioner absorbs toxins in the bulls system and passes it out. Within a week of using this product in my TMR, I noticed a definite change in the cattle. One sign was no more high sided bulls after they ate. Another sign was that one could tell the bulls were a lot more comfortable and not so agitated. After that time I did not have one case of acidosis bloat for the rest of the season.
Problem solved thanks to Redmond Conditioner.
-Bruce Hould - Malta, MT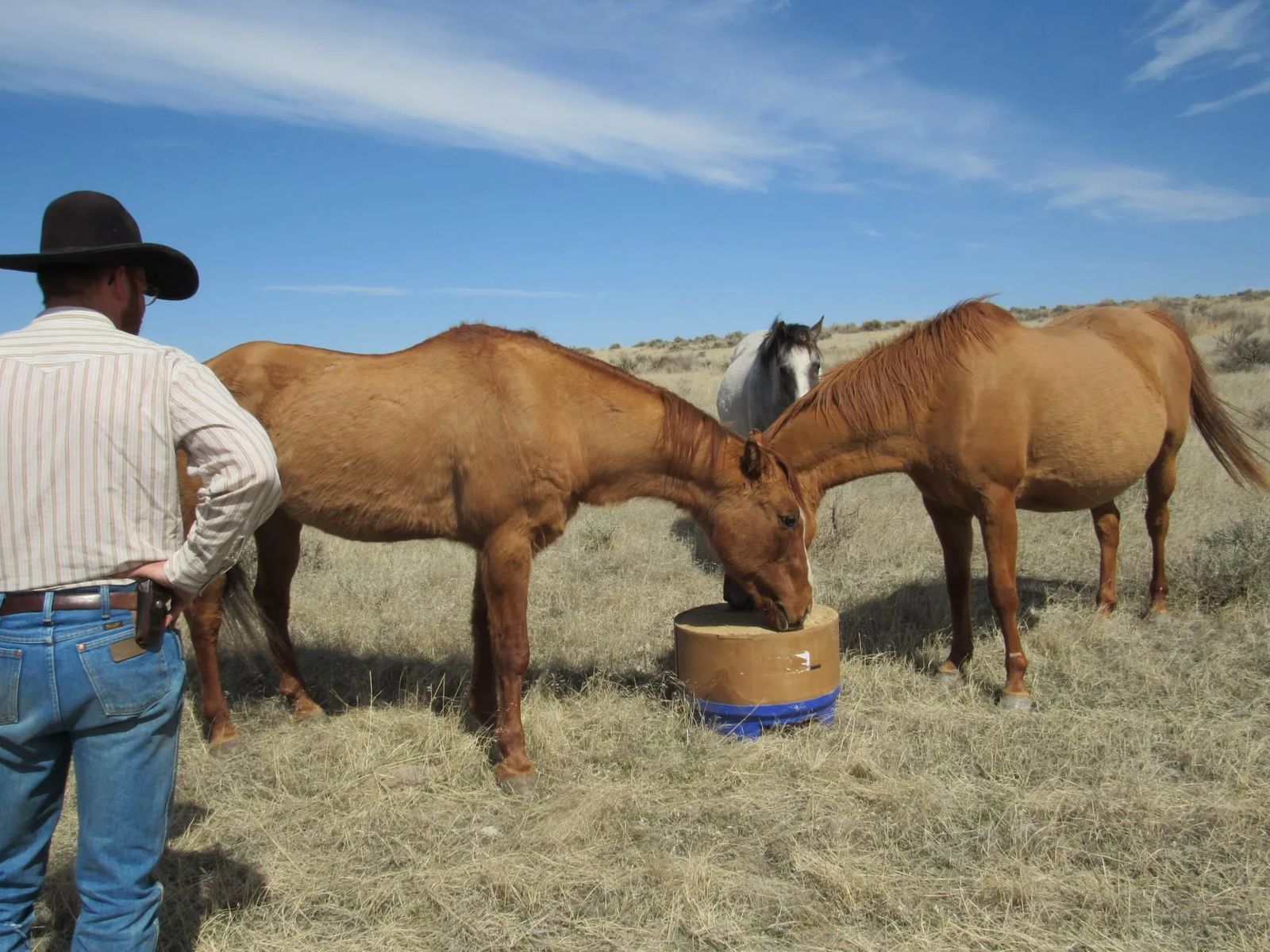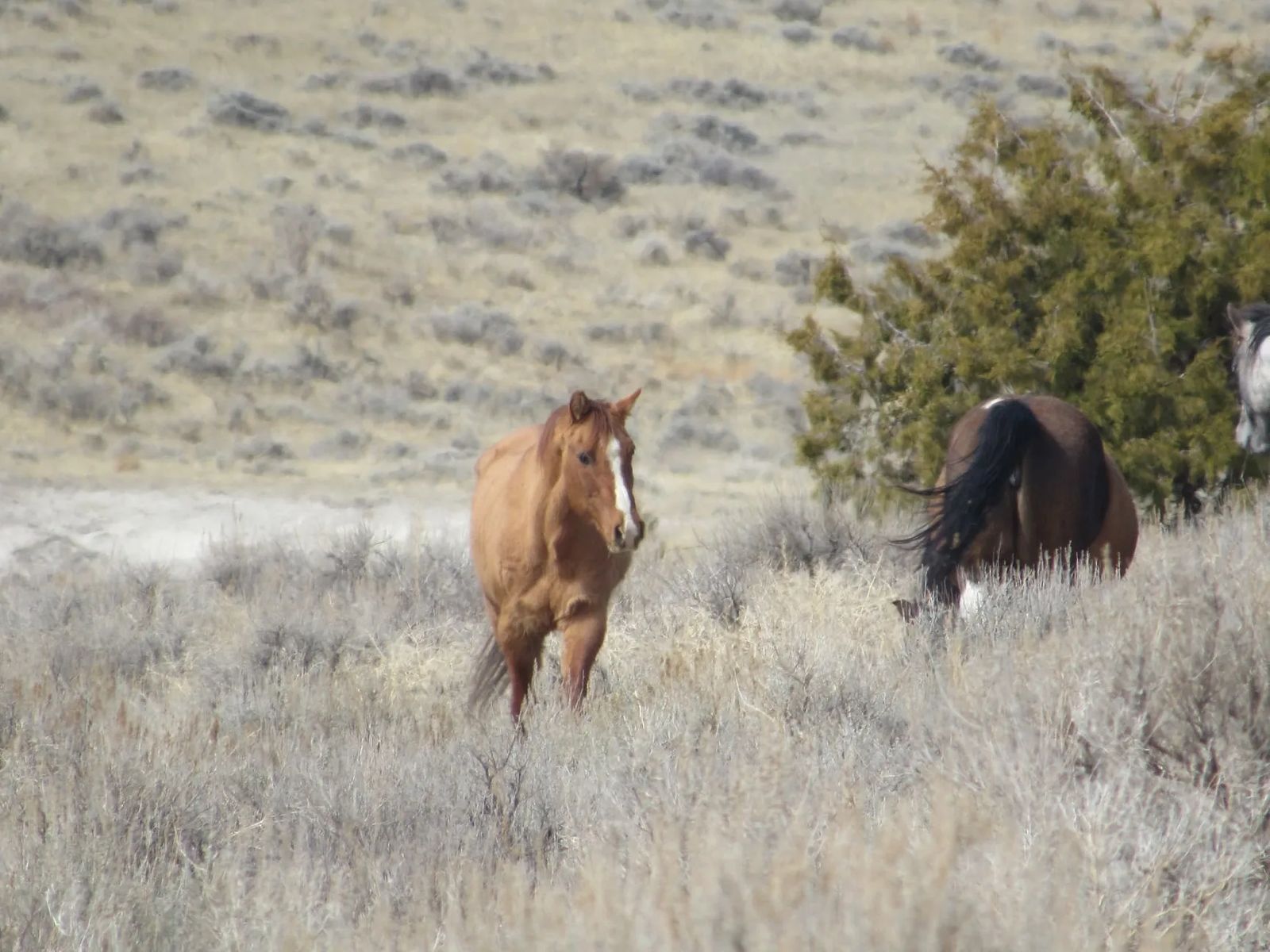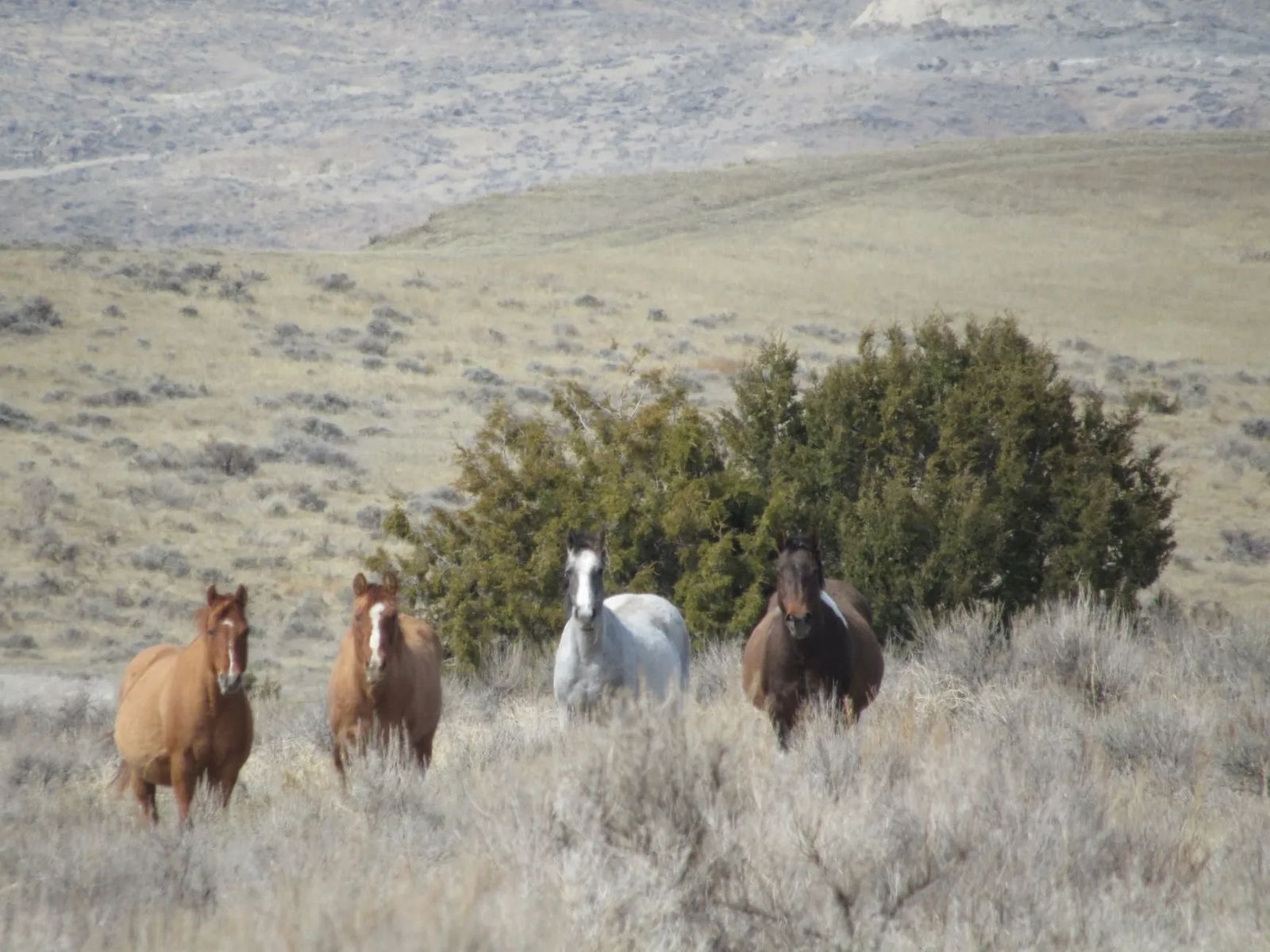 "Thank you!!!!! 22 year old range stud "Ikes Ole Poco Drift" was in pretty rough shape coming into fall and winter but Equipride and the lick tubs got him picked back up and he is back in business!"
- Jonathan & Rachel Deford - Training in Truth Ekalaka, MT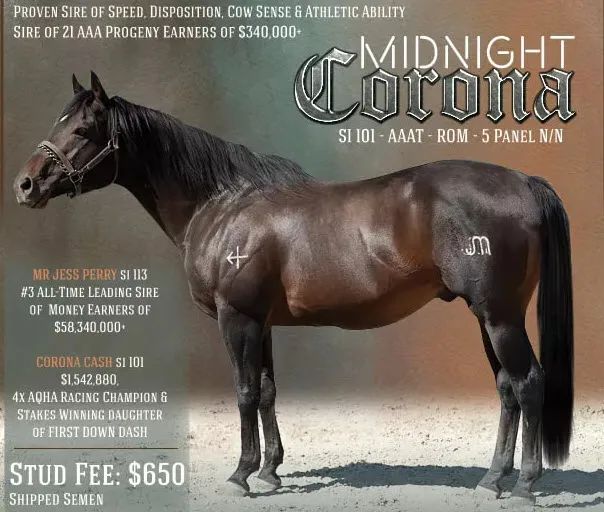 "My husband and I own Midnight Corona and we breed around 40 mares a year to him. Before we found Agri-Best Feeds, Midnight would get sore and we would have to inject him to get through breeding season. Midnight has been on EquiLix tub or EquiPride crumbles for over 3 year now and since on the product we have not had to inject him at all or even worry about him having ulcers or colic. Midnight also semen ships very well and always has, however the numbers went from 85% mobility to around 95% mobility since on the product. We get calls from all the vets we ship around the United States and are told that he ships very well and one of the best studs semen they have seen. Midnight loves his product during breeding season January to August he is on 3 scoops of EquiPride in a little bit of grain. Off breeding season he has a PI 50lb EquiLix tub in his pen plus all year round her has a Redmond salt and Selenium block. His feet are great and we just trim him every 8 to 10 weeks. Coat is shinny and always looks fit and in shape."
– Luke & JoBeth Hutchinson - Belgrade, MT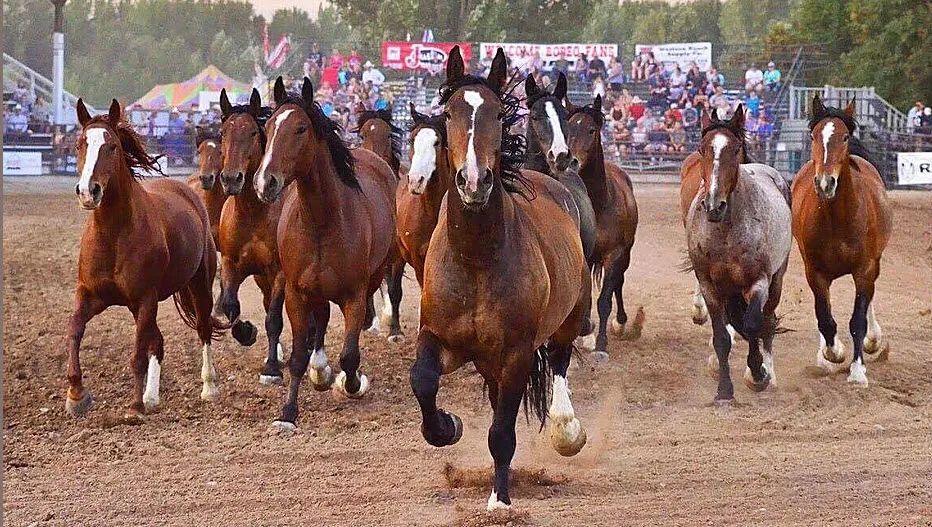 "When I first decided to use the Equilix at Powder River Rodeo, I wasn't sold right away. I had used protein tubs before and spent a lot of money due to not being able to control the intake. Plus all the tubs were completely full of sugars and starches. We first put the recommend use to 80 head of mares in foal, and the tubs would be gone to the day of the correct intake, it was truly eye opening. You didn't see the same ol pigs sitting at the same tub all day with their faces covered in molasses. We also saw a huge increase in our foal rates. At first I always believed horses needed grain or something like that so you could ensure they were getting what they needed while on the road, but after using
Equilix tubs and the EquiPride loose supplement, we found they have a better chance of getting what they need because they have more opportunities to be at the tub in 24 hour period rather than just when you grain. If you have large bunches of horses it's hard to ensure each individual horse is getting the right amount of grain, either timid or eating slow lots of different factors. What I have found with the tubs is each horse in a set of 30 or larger gets what they need and my horses look and feel great. Having one or two horses is easy to keep them separate and ensure each one is getting their daily vitamins and minerals, but try it with 150 to 300 head. This is the first supplement tub we have found to go above and beyond what our horses need, and keep the intake to what the recommended dose each day for each horse is. This essentially is important for the amount of money you will be spending, cuts down of hay intake and saves you money while keeping your horses in spectacular shape. We also noticed a huge difference in the horses who were on the tubs as to horses that were not this summer with fly control, we also did not worm our horses this past year and all of them look great. The garlic in the product truly does work. Our horses performed on average as good or better when on the road this past season and we did not feed them any grain. We also noticed they cut back on their hay intake keeping their big bellies off for increased bucking ability. I recommend Agribest feeds to everyone, they have many great products like Redmond Salt which accompanied our tubs very well. Agribest has by far the best customer service, if I need feed or if I have questions they always give the educated answers I look for or have the feed to me ASAP."
– John Franzen, Powder River Rodeo - PRCA Remuda of the Year 2019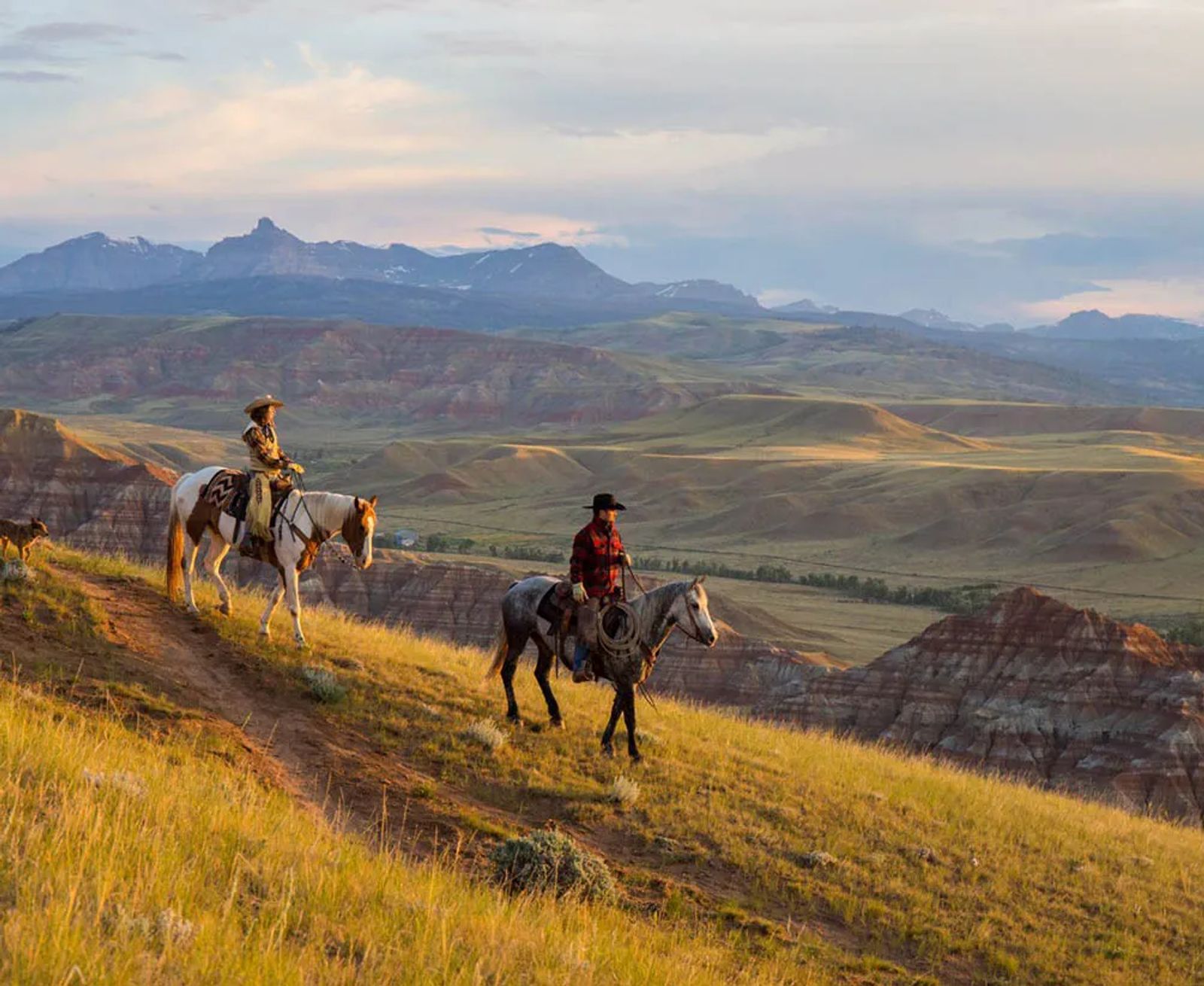 "We've managed CM Dude Ranch for 10 years with about 110 + horses. The ages ranging from newborns – around 30 years old. We've been using the Redmond Salt for 3 years and the EquiLix tubs for about 2 years. Our horses have healthier coats, some have completely changed colors, and the old boys are holding their weight. We haven't dealt with any colic, and our ticks haven't been
as bad. With such a big herd, the initial consumption can be a little scary! However, now I've noticed that there is no "feeding frenzy" when feeding hay, and after just a little time at the hay, they are leaving it. With wonderful coaching from our super knowledgeable Rep, who makes deliveries, there for us if we have any questions or concerns (I have him on speed dial), and takes the time to walk us through what we should see and experience, I feel like we are completely turning the health of our horses around. This is an amazing product, and needs more representation in the horse world for sure!"
– Mollie and Hunter Sullivan - CM Ranch, Dubois, WY
"I've been using SweetPro and Redmond for about 2 years now. My herds overall health has increased and that goes right through to the calves during weaning. Having the options of adding the stress blend or garlic to the tubs is a plus as well. Consumption stays the same pretty much year round and weather doesn't bother the tubs. Cows have bred back sooner and my calving period has tightened up by a few weeks and I give that credit back to nutrition. Every group of cattle from cows on stalks, bulls and replacement heifers has a SweetPro tub available. I highly recommend."
– Dalton Hyke - Arapahoe, NE
"Just wanted to let you know that the alley and tub really have worked incredibly well. They have essentially removed a man from the equation when working cows, the cows fill the alley on their own and we rarely wait on the lone man in the back. If you need me to give a testimonial to anyone I would be happy to do so."
– Jason Smith - Big Timber, MT
"Just let you know we worked our steers through the chute the other day and what a pleasure compared to the old clattering rattling one we had. Tally branding our replacements will be the next big test and was always a day hated by everyone with the old chute. What's most amazing is how they simply exit with less velocity because it was less stressful. Sure there is the occasional tantrum thrower but they are held so well they can't hurt themselves. We always had sore front feet with the old chute after vaccinations."
– Shane Lammerding - Saco, MT
''We can certainly attest to herd health benefits of our products to reduce the need for antibiotics. We sent 360 calves raised on SweetPro, whose mothers were also raised on SweetPro (and at this point probably generations past that with 10 yrs of feeding SweetPro), and so far, the feedlot has had to doctor only 2 calves with antibiotics, and those two only required one dose each.''
– Reno & Gwen Shepperson - Buffalo Creek Ranch, Arminto, WY
''Last fall we fence-line weaned 285 calves on our hay meadows and SweetPro's Kaf Kandi. They immediately took to the Kaf Kandi and consumption was right where it was supposed to be. The calves seemed to hold good body condition, and health was excellent with having to treat just one in 60 days. As with anything new, we were a bit skeptical of weaning the calves on the tubs for the first time. We were very impressed with the results and really appreciate the convenience of the tubs.''
– Klint Swanson, Shipwheel Cattle Co - Chinook, MT
''My brother Ryan and I had attended a Ranching for Profit school and we adapted pieces of their philosophy of minimal winter feeding for what we needed on our ranch. We had increased the size of our operation and needed to be able to do more with less work. In order to minimize both the time and cost expense of feeding hay, we stock pile enough forage during the year to be able to utilize a winter grazing program and once every 10 days they put out enough SweetPro supplement calculated to last the herd until the next deliver. I'm not saying we never feed hay. We do when the snow gets too deep, but I'd rather be doing something else than feeding $150/ton hay all day every day. Feed efficiency for us was a good selling point. Range conditions can make feed efficiency hard to quantify but we did our own field trial, and put the SweetPro up against what we were using at the time. At the end of the season, we liked what we were seeing with SweetPro.''
– Courtney Herzog - Rapelje, MT
''We expect a cow to go out there and make a living. We don't feed a whole lot of hay unless we get deep snow where they can't get to the grass. I'm calving a bunch of three year olds at my place right now and they haven't had any hay all winter. We had a lot of snow in December but it blew off some on the ridges and those three year old are in excellent condition. In the winter time we are supplementing the cow. She's going to get enough energy out of the grass but she can't get enough protein. The SweetPro is different than the other supplements we've tried over the years in that you are feeding the microbes in the rumen. If you are feeding the microbes correctly, she will digest the roughage and utilize it. Breed back had been good, really good. We feed supplement to our yearling heifers, actually starting before they are weaned. They will stay on it, year round, until after they calve as three year olds- the toughest year of their lives. They are facing a lot of physical demands as they are still growing, feeding their first calf, and we are asking them to also re-breed. Last year he reported 99% bred on the three year olds with only one open cow, and believes their feeding program deserves some of the credit. I'm not saying it will for everybody, but it's worked very well for our operation. There are a lot of folks who graze off all their grass during the summer and feed hay all winter. We just think that's too expensive. SweetPro is not the magic bullet, it's a management tool that you have to use in conjunction with a lot of other things you are doing, but we wouldn't be using it if it didn't work well for us.''
– Don Herzog - Rapelje, MT
''We went from the worst year ever, to the best year we'd ever had. With the heat and dryness, we just couldn't get the cows to cycle. We went from conception rates of 65-70% to 97% bred in a single year. The only thing we changed in our program was adding SweetPro blocks. It really helps them utilize their feed. Instead of 25 pounds of grain, we are seeing the same results with only 10 pounds per bull. We don't want them big, but want to see them fit and well-muscled. By looking at bull's manure, we can tell if they are eating SweetPro or not by how well the grain is broken down – particularly with corn, they just seem to be able to utilize it better. We truly believe that using SweetPro products has been a key factor in making our bulls reach their maximum potential. We use SweetPro 16s every day on the ranch and Fresh Start every day on the road.''
– H.D. and Dillon Page | Multi-year PBR Stock Contractor Year and owner of the bucking bull brothers brothers SweetPro's Long John (2015 World Champion Bull) and Bruiser (2015 ABBI Classic Champion) Dickson, OK
''I can really tell the difference on the performance and condition of my bulls since I've been using SweetPro. What I really like about it is that it really keeps my bulls healthy. They really muscle up on it, it keeps them fresh and their stomachs working well. My bulls travel better since they have been on the supplement.''
– Chad Berger - 5 Time PBR Stock Contractor of the Year - Mandan, ND
''As the leader in Feed Efficiency, it only makes sense that we us a product, SweetPro, that is also known as a leader in the industry in Feed Efficiency.''
– Jim Jensen - 2016 U.S. Industry Livestock Leader of the Year - Lucky 7 Angus Boulder, WY
''We wintered our cows and coming first calf heifers on FiberMate 20, Redmond salt, and long stem hay. This spring, we were pleased with the healthy and vigorous calves. We like the value of the balanced minerals and protein provided by the FiberMate 20.''
– Brent McRae - 2015 MT Angus Association President Big Dry Angus Ranch Jordan, MT
''Agri-Best Feeds has a great line of products that help the cattleman achieve more on less input and unbeatable customer service to top it off.''
– Steve Williams - Midland Bull Test - Columbus, MT
''I can't say enough good things about this stuff (SweetPro) in the 10 years I've been working on this ranch we have used pellets, cake, tubs and nothing has worked as good as this SweetPro.''
– Buck Woosley - Crazy Mountain Ranch - Clyde Park, MT
''Our heifers have been a very interesting study in fetal programming. We have 67 heifers that were born here from mother cows that were on SweetPro for their entire breeding and gestation period. We have 20 heifers that are from our other ranch that's Reno's brother runs, and those heifers' mothers were only on SweetPro during the harsh winter months in the last trimester of gestation. Out of our current total of 29 calved out heifers, only THREE are from the other ranch's bunch, the remaining 26 that have calved are from our bunch here, (the remaining herd of heifers from the other place is being calved out by my niece/nephew, and they have 11) meaning, our heifers bred up on the first cycle at a rate that is over twice as fast than the other ranch's heifers. Its a good comparison b/c the mother cow and bull genetics are the same in both herds, and the heifers from both places were all consolidated as yearlings into one pasture for breeding last season, so they all grazed the same range, serviced by the same bulls. Conception rate for our group of heifers was significantly higher at preg testing as well.''
– Reno & Gwen Shepperson - KS Ranch - Arminto, WY
''Hands down one of the best investments we make every year is using Sweet Pro Mineral. Being a low input ranch in north central Wyoming feeding little to no hay, our cattle make our living by being able to productively graze year around off of diverse forages. Sweet Pro mineral helps by not only maximize the nutritional value of those forages but also maximizing our cows profitability by increasing their overall health, their calves health, & unborn calves health. Added benefits we have seen is the lack of sickness during calving season (scours, pneumonia), also the ability for the cows to naturally synchronize their breeding cycles together helping us go from a 90 day calving period to a 60 day calving period. This has been one of the easiest ways for us to help return more to our bottom line, by helping keep our cattle healthier, we get females in full production for 3-4 more years, more live calves come shipping time.''
– Adam & Rolly Redland - Redland Red Bank Angus - Ten Sleep, WY
''For the past three years, we have been developing our replacement heifers and supplementing our cows post calving on SweetPro tubs and Redmond salt with great success. In addition to the hay savings we have experienced, the general health and fertility has also seemed to improve. I am a real believer in the benefits of the added enzymes and probiotics contained in the SweetPro tubs.''
– Jason Harrison - Harrison Angus Ranch (High-selling bull, 2012 & 2013 Midland Bull Test) -Boyd, MT
''We were nothing less than impressed with the results of our replacement heifers last winter on the SweetPro blocks. With only grass hay, KafKandi blocks, and Redmond salt, the heifers came into spring in perfect condition – cycling like crazy. Health throughout the winter was excellent and their performance was right on target. We actually witnessed a reduction in the consumption of hay which significantly reduced our input costs. I think that the chelated minerals and the digestive aids which help the animals utilize lower quality forages are very beneficial. Feeding the tubs every ten days is very convenient and they are also very easy to handle. Having access to the product that has all of these benefits is very exciting in today's world of agriculture. At this point, I'm very comfortable recommending the SweetPro and Redmond salt combination. It sure has done the job for us.''
– Klint Swanson - Shipwheel Cattle Co - Chinook, MT
''Last fall we fence-line weaned 285 calves on our hay meadows and SweetPro's KafKandi. They immediately took to the Kaf Kandi and consumption was right where it was supposed to be. The calves seemed to hold good body condition, and health was excellent with having to treat just one in 60 days. As with anything new, we were a bit skeptical of weaning the calves on the tubs for the first time. We were very impressed with the results and really appreciate the convenience of the tubs.''
– Klint Swanson - Shipwheel Cattle Co - Chinook, MT
''Preg tested our yearling heifers today–we had only put the bulls in for 28 days, so we expected a lot of opens. Not so much–197/230 to calve in 28 days–gonna be a BUSY March in the calving barn! We use SweetPro year round on all our cattle, and will never use anything else, its improved so many things about our herd, molasses barrels just don't even compare.''
– Reno Shepperson - KS Ranch - Arminto, WY
''My calves (weaned onto the Kaf Kandi blocks) finished 32 days sooner and weighed 30lbs more than my 10 year average I think it is the blocks.''
– Dennis Dale - Kearney, NE
''SweetPro has had a significant impact w/ our 2 yr old calving heifers in the corral. Our hay consumption rate is way down–we used to feed 4, 1700 lb bales/day to 200 heifers, whereas now our consumption is down to 2.75 bales, with under 1lb of SweetPro FiberMate 20 consumption per day. With today's hay prices, every bit sure helps! Our heifers have more milk, are stronger calvers and our calf scour death loss has dropped to almost zero. We rarely have a cow that does not clean within 24hrs of calving. Calves learn to eat SweetPro right alongside their mothers in the pastures, and even our neighbors have noted how much thicker and beefier our calves are now, even before green grass. SweetPro has provided us with more piece of mind and herd health than any other supplement we've fed previously.''
– Reno Shepperson - KS Ranch - Arminto, WY
''Thought you would be interested in hearing the comments that I have gotten from the people that have bought my beef. Several of them have re-ordered from me again and have stated that they think that the meat is even better this year than last year… The only thing that we can think of is the use of the fresh start supplements. Feed back also on IGR tubs… people saying that their fly control is the "best it has ever been".''
– Troy Gibson - Scranton, IA
''Wes and Earl Jensen from Circle, MT did a trial with their first calf heifers. After breeding Wes reported, "85% of the first calf heifers bred on the first cycle and with a total of 97% conception rate. The average weaning weight of the heifers' calves equaled that of the mature cows. We believe that retention of the first calf heifers is critical in our profit cycle.''
– Wes Jensen - Circle, MT
''We have a Grand Prix horse with loads of talent but not the easiest keeper. I've had horses in the past like him that seem like nothing works. Feeding him more volume fails because he's also picky. Rarely, will he finish his breakfast by lunch. To add injury to insult, he got an infection in his leg in the fall and and lost all the muscle tone we worked so hard to get. This winter, the horse was truly at ground zero. After meeting Mike at Redmond, we decided that this horse would be the best candidate for Daily Gold. He's been on it for a few months now and the results are remarkable. Now, looking back at the symptoms, it was clear he had ulcers as the root cause of all his problems. The Daily Gold not only cooled out his gut, but also stimulated his appetite. It makes sense. On a side note, my wife never eats breakfast because of an upset stomach in the mornings. After Mike recommended Redmond Clay, ( the human grade daily gold), her GI issues subsided and now I scramble eggs for two instead of eating alone, but back to the horse. In the first week, I noticed our horse was finishing his breakfast like the others. Every day, it seemed there was a different horse in the stall. He had more flesh, more energy and better muscle tone. I've since taken him off every other supplement except Daily Gold. Instead of having to over feed, he eats a portion consistent with the other horses his size. I can't stress enough how much Daily Gold has improved our horse's condition. All of our horses are now on Daily Gold. We have discontinued our ulcer supplements with great results. I can testify that Daily Gold performs exactly as advertised.''
– Eric Thompson - Stella Farm Show Jumpers
''Just thought I would drop you an email and let you know some of our results over the course of the winter. We fed the backgrounder tubs to about 1250 head of yearlings, and Redmond salt and conditioner to the other 1250 head of yearling on our place. On a bad year we suffer from about 120 cases of coccidiosis in our yearlings. This year we only doctored one (and we are not even sure if he was actually sick with it or not). Although we still had some foot rot out of one truckload of cattle that came in our sickness was next to nothing this year, which was good considering how bad of a winter we had. The product really works. Thanks. Just a little side note here about the gains we have had with our yearlings on SweetPro and Redmond products. Over the last week we have sold about 600 head of yearlings in two bunches. They were started out on the backgrounder tub and then switched to FiberMate 18's part way through the summer. They ate about .75 lbs per day of the tubs and were space fed as well. We had Redmond salt on the side and they were just on summer rangeland and we still gained 2.99lbs on one bunch and 3.02 lbs per day on the other. These particular cattle didn't have fly control and no growth hormones either.''
– Brett Phipps - Phipps Ranch - Whitman, NE

''2017 weaned calves at Shipwheel. Loving the SweetPro and doing great. Health has been excellent!''
– Shipwheel Cattle Company - Chinook, MT
''We had been feeding molasses barrels to our calved heifers this spring and were doctoring calves for scours. We then switched to the SweetPro 16 and have not had to doctor any calves for scours.''
– Stuckey Farms - Manderson, WY
''Love our ARROWQUIP CHUTE — fits all sizes of animals, quiet, easy on the workers and the cattle.''
– Mary Hill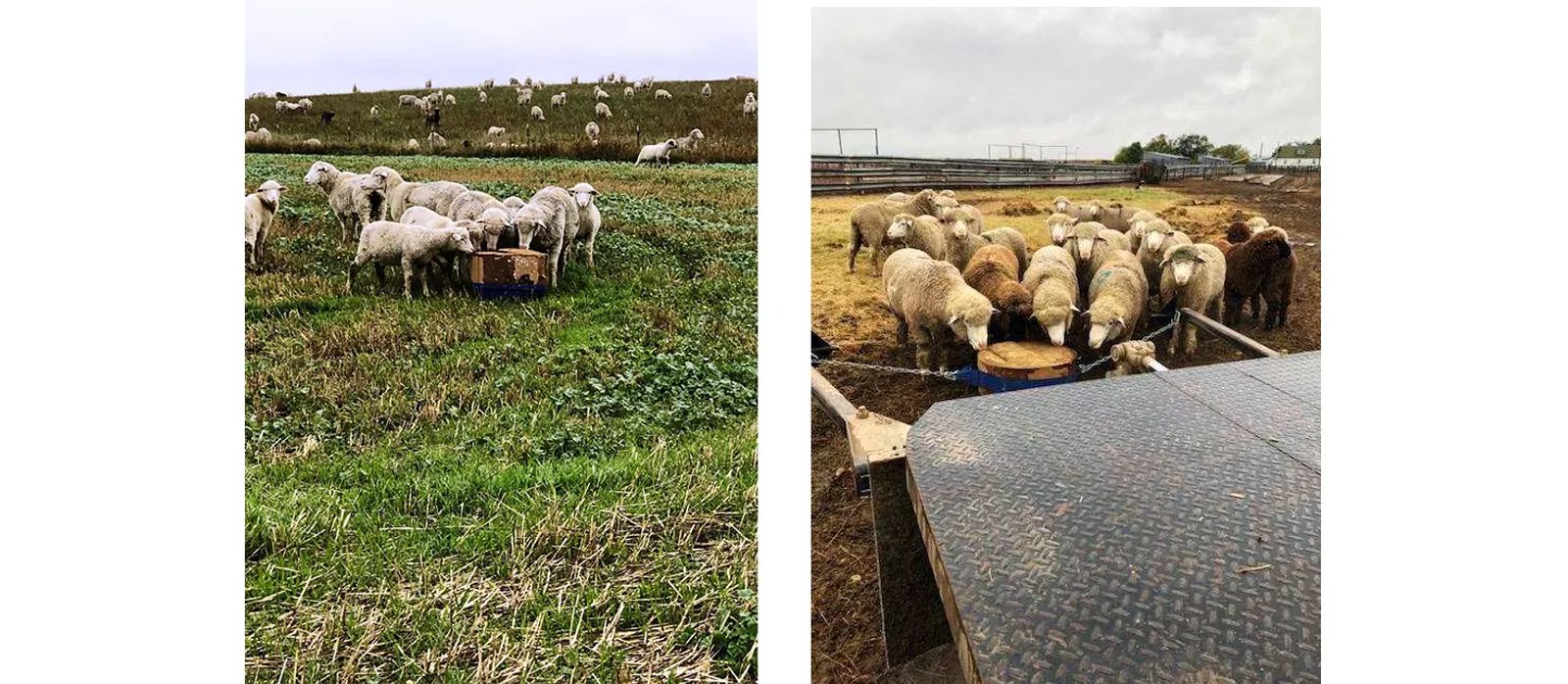 ''We have been using Sweet Pro for 3 years. Our original intent for Sweet Pro was to increase ovulation in preparation for breeding. It has done a marvelous job of improving the overall physical condition and health of our ewes. The probiotics keep bacteria in the rumen working at a much higher level resulting in a more efficient use of our feed. Healthy animals make management much easier.''
– Sam and Nancy Ortmann - Wolf Point, MT
''My family has been using Fresh Start in our show calves ration for four years. We have experience no bloating or gut issues, even when they are fat steers. The product has helped with their overall health, digestion and performance. Fresh start has helped them to not go "off of Feed" even during times of traveling and show times. I am sold on this product!!!!''
– Darcy Kaisler - Kaisler Cattle, LLC - Savery, WY

''Our portable Arrowquip chutes have greatly improved the scope of our rural veterinary practice and have afforded our clients the option of safe, stress-free, efficient animal handling.For manual chutes, we really enjoy the durability, ease of use, and quiet operation our portable Q-Catch chutes provide.''
– Stillwater Veterinary Clinic - Absarokee, MT - Dr. Jesse Olsen, DVM MS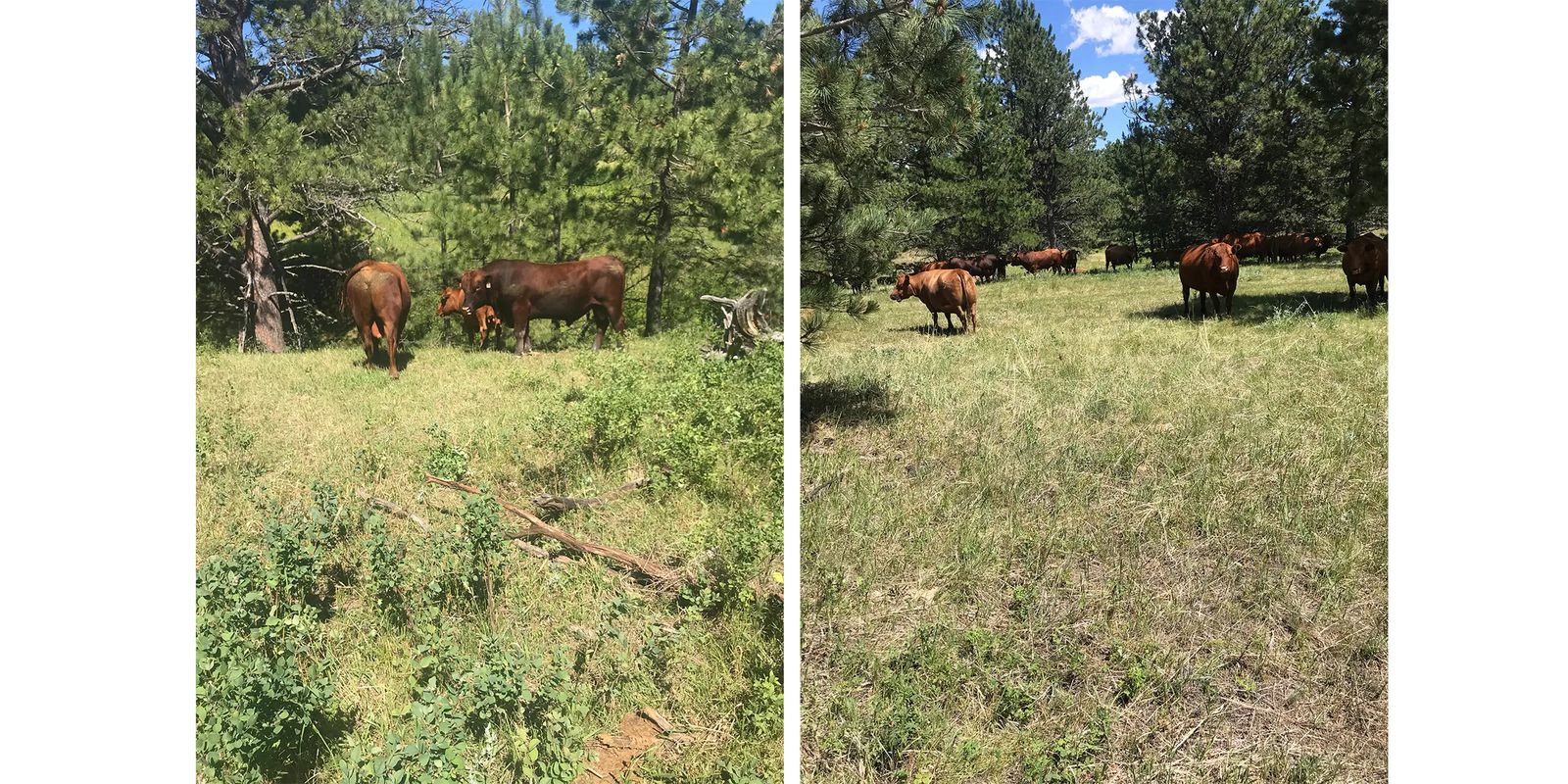 ''Started my cattle and horses on salt with garlic in it. It worked, just as promised. Almost no flies.''
– Finkbeiner Sheep and Cattle - Grass Range, MT
''I put my dads cows on SweetPro. Well we just sold his calves are a 100 pounds heavier then normal! They average 600 pounds he had two at 790.''
– Kendel Hofer - Williston, ND
''I have been selling SweetPro products for over 9 years. I started using the EquiPride/EquiLix products for our horses. The results we started seeing really opened our eyes. It really impressed us how simple feeding a quality supplement to our horses could be. We went from feeding 5 supplements to one. As a dealer, I feel what really benefited me is knowledge of the products and experience using the products. I answer questions as honesty as I can with facts. I tell people my personal experiences and how I feel they will benefit their program.''
– Kendel Hofer - Williston, ND
''I use SweetPro garlic/stress and Redmond salt with the garlic and stress package exclusively on yearling heifers during the summer months. The heifers spend more time grazing with the fly repellent qualities of garlic and less time bunched in the corner of the pasture on hot days fighting flies. They come off summer pasture in excellent shape, well prepared for fall and winter here or resale, depending on their destination.''
– Justin Spickler - Spickler Ranch North, Glenfield, ND
''If you run your horses and cows together, make sure to have multiple tubs, spread far apart because the horses will keep the cows away from them! We've been feeding the Sweet Pro 18 and they all love it. Have our weaned calves on the Cattle Kandi and they are doing very well with it. Weaning time was way less stressful. Too, all of our animals have free choice Redmond mineral and Conditioner.''
– Keri Sammons-Merrill Frannie, WY
''We have several older horses that seem to be holding their weight better after having these tubs at all times.''
– Keri Sammons-Merrill Frannie, WY
"Those chutes are extremely quiet, low profile is an advantage when you place load bars under for scale. Sides open easy, but animal doesn't swing out because of where vertical bars touch shoulders. Did I mention they are quiet. Operating tail gate and head catch simultaneously, big advantage. Built with good iron, look at competitors chutes and was disappointed at how they would bow out when squeeze was applied. Oh yeah did I mention they are quiet."
– Lund's B Bar Angus - Steve Lund Wibaux, MT– Keri Sammons-Merrill Frannie, WY
"We've been feeding equipride tubs for years! It's the only supplement we use. This team has won two reserve state champion jr high barrel racing championships, one state finals average buckle, and three years of qualifying for state in barrels and poles, as well as multiple nations qualifications in jr high rodeo and little britches. The mare is 17 and doesn't have routine injections."
– Terr Bear - Williston, ND
"We tried the stress blend with garlic this year with my daughter's 4-H calves. The calves gained well and hardly ever needed fly spray. I will be using it again when we get the next set of calves."
– Angela Weber - Shoshoni, WY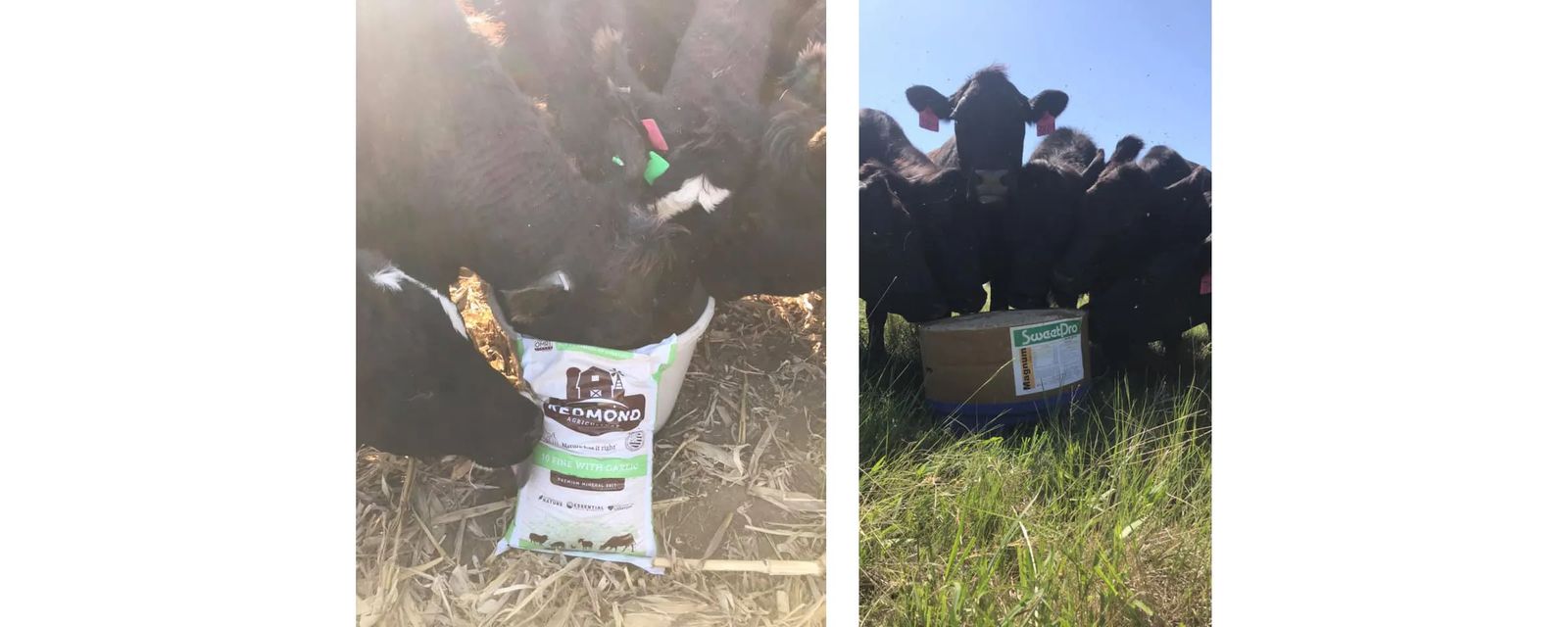 "I use SweetPro and Redmond garlic salt year round. Excellent products with excellent results."
– Dalton Hyke - Arapahoe, NE
"I first learned of EquiPride at a Back Country Horsemen's Convention here in Montana. The feed rep was very knowledgeable and helpful, and even carried the 50 pound bag to my car! My horse, Jessie's Lucky Lad (AQHA) was 32 years old and not very healthy. He had been diagnosed with Cushing's syndrome about 8 years ago, with a vet placing him on medication for about 2 years. Another vet subsequently took him off the medication, and I saw improvement with this vet's recommendation of Chromium Yeast, which he supplied to me. However, Jessie's health continued to deteriorate with age, although I researched and tried several brands and types of feed specifically for Cushing's horses. Although Jessie was underweight, he continued to out walk my other, very fit 11 year old horses to the top of every mountain pass. I love to pack into wilderness areas, and Jessie went on every trip into the Bob Marshall Wilderness here in Montana. The other horses could not keep up with him. He loved to go. When I started Jessie on Equi Pride, he began to gain weight, and his coat began to shine. Within two weeks, the results were obvious to everyone who saw him. For the first time in many years, he actually looked shiny and healthy! Equi Pride has saved me money on other feeds and supplements, given me a healthier horse, and I have told anyone who would listen about my great results with my 32 year old! A big thank you to the folks at Equi Pride!!"
– Rena Johnson - Plains, MT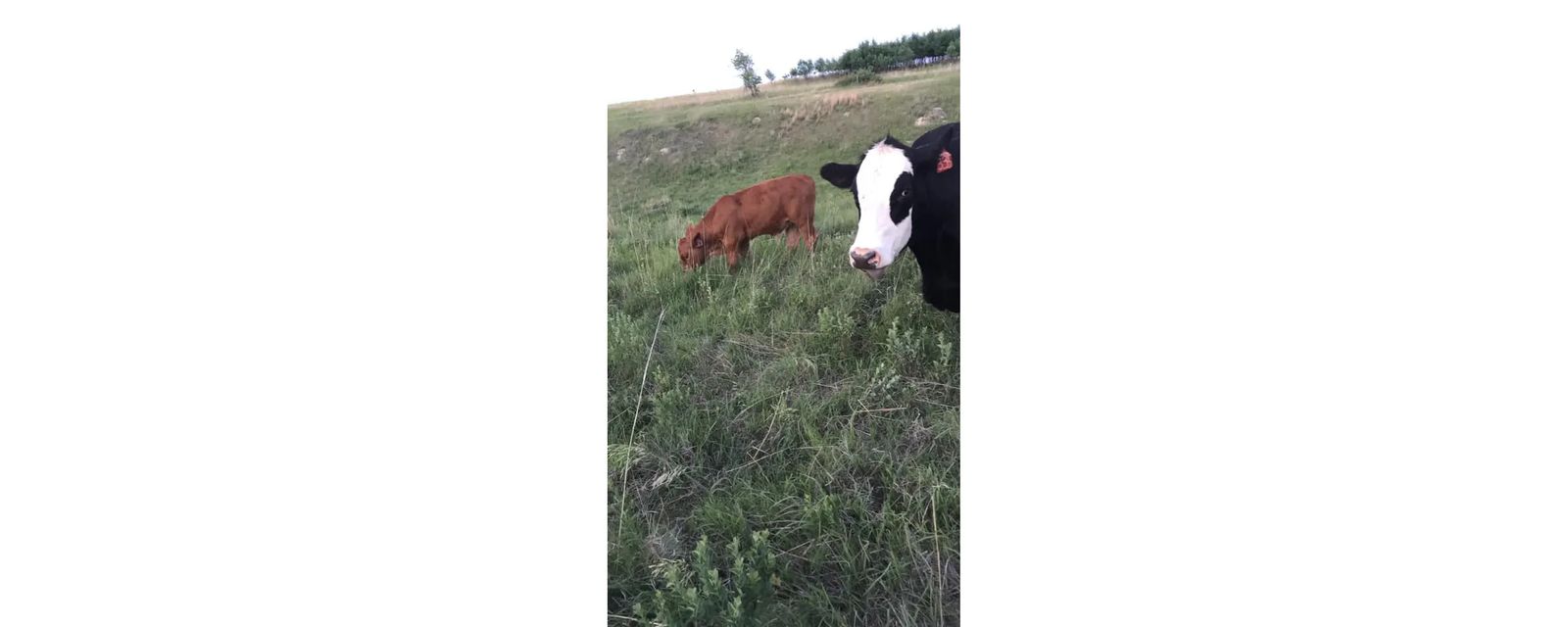 ''We have been using SweetPro for just over a year now and it shows in the whole herd with healthy cows and calves.''
– Aaron Hamel Holbrook, NE
"I have a 25 year old horse that I still use on occasion to breakaway off of. This winter he was looking great, even with it being a hard winter. I had the 125 pound EquiLix in the pen he was in and I would always see him eating on it. About 2 months ago, March 1, 2014, he started to drop weight. I thought he needed his teeth done again so I did that and I also wormed him, it helped a little but he still wasn't where I wanted him to be. I tried the Total Equine and that almost seemed to make him worse. I kept trying to figure out what I was doing this winter that I wasn't now. Well I didn't have the EquiLix in his pen and was not feeding him the EquiPride. I took him off the Total Equine and put him on straight EquiPride and got another EquiLix and put it in front of him. This was a week ago, April 25, 2014, I have seen more improvement in just the last 7 days then I have in the last 2 months. I got him back on the EquiPride and the EquiLix and I predict that in a week and a half he will almost be back where he should be. I cannot say enough good things about the EquiPride and EquiLix products. I have all of our horses on them now again and they look great, feel great and work amazing. The EquiPride products do not make your horses hot and hard to work with, they make them feel good and want to work. I defiantly learned my lesson for not keeping EquiLix in front of my horses. Go and talk to the guys at Agri-Best they are very helpful and can answer any questions you may have. Thank you Agri-Best!!!!"
– Jacey Fortier - Laurel, Montana
"For about 2 years my beloved paint horse Twister had been losing weight. I would find him standing alone in the corner of the pasture foaming at the mouth. I took him to several vets to figure out what was wrong with him. Finally, at whits end, I went to the local feed store and was asked to at least give EquiPride a try and I'm so glad that I did! Its been 6 months and he is doing great! EquiPride is an amazing product and I recommend it to everyone that I know to feed to their horses."
– Melissa Brazelton - Powell, WY
"Since we started using Sweet Pro our cows have held their condition through the winter. We have also improved in our weaning weight 20-30 pounds. We also use Sweet Pro Products with our 45 head of camp horses and have been very impressed with the improvement in being able to maintain a good condition; especially with our older horses."
–Jonathan Deford - Trails End Ranch Ekalaka, MT
"Equi-lix tubes for the horses are great, cuts back on the hay. Makes horses look great! EquiPride on the horses that I am riding keeps them feeling and looking great. My rope horse and barrel horses are all on it. Love it because it does not make them HOT! They just feel good."
– Joy Benson - Billings, MT
"The BEST money you can spend on your horses is for a bucket of EquiPride! I've never seen such amazing results using any other product (I mean that, We've tried them all!). Every horse on our property shines, has great smooth strong hooves, strong top lines, full muscles, we never have to deal with colic or ulcers, and since starting feeding EquiPride, we have cut our feed bill by over a 1/3 in just a year! I'm SO impressed and would recommend this product to anyone. All horses, all ages, all sizes and breeds and in any discipline. I wish we could sell this stuff ourselves instead of driving over 2hrs to the nearest dealer but it's worth it. Everyone needs it in their barn!"
– Milynda Raedel