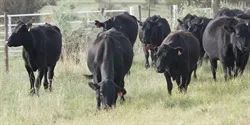 As ranchers send their cattle out to summer pasture, they are looking for their cows to stay healthy during gestation and their calves to put on weight prior to entering feedlots. However, most forage sources do not contain adequate levels of minerals to ensure your cow herd is performing optimally. Many ranchers grazing cattle in Montana and Wyoming opt for free-choice feeding of vitamins and minerals to help supplement their herd. But, with all the different supplement choices, how do you decide which one will work best on your operation?
Scott Anderson of Agri-Best Feeds says ranchers should remember three key things when selecting a mineral package for their operation:
1. There is no "one size fits all" mineral package.
"The goal is to provide a mineral package that fits most of the cattle, most of the time," says PerforMix Nutritionist, Boone Carter, "what cattle need changes every year and can change within the year." Geographical region, production goals, herd health, forage source, and time of year are all factors that should be accounted for when selecting the correct mineral package for a customer. This allows for a rancher to feed the correct mineral package at the correct time of the year in the correct amounts. When moving from winter feed to summer pasture, the nutritional needs of the herd change and your mineral should generally change as well.
2. Quality over quantity.
Feed supplements should focus on supplying high quality minerals that are bioavailable or easily utilized by cattle in order to most efficiently supply the protein, vitamins and minerals in a form that fits the needs of a cow herd. This approach allows ranchers to feed their cattle a more precise mineral ration, targeting areas that are deficient, in higher demand, and/or are antagonized by competing minerals during certain times of the year; a system that has proven to be successful by keeping feed and supplement costs low while increasing return on investment.
3. Education is essential.
Staying educated on the mineral you are using is incredibly important. A good distributor will provide education and information to customers on changes and best practice utilization of their product. For instance, Agri-Best Feeds offers regular webinars to help customers learn how different supplements can benefit their operation. "The direct relationship with nutritionists like Boone Carter makes Agri-Best Feeds a resource to our customers," shares Scott Anderson. A free educational webinar on Agri-Best Feeds newest product line, Cattleman's Choice Mineral Supplement, including a Q&A with Boone Carter, will be on June 15th at 7:00pm Mountain Time. To join the webinar, simply log on to join.me click join meeting and type agribestfeeds in the meeting box.
Thanks to the recent partnership of Agri-Best Feeds and PerforMix Nutrition Systems, ranchers in Montana and Wyoming now have the opportunity to utilize one of the highest quality supplements on the market: Cattleman's Choice Mineral Supplement products.

Founded in 1985, PerforMix Nutrition was created to fill the nutritional needs for Idaho based Agri Beef, a 115,000 head ranch-to-plate feeding operation. In 2007, PerforMix added dry mineral to its already well regarded product line.
"We know there are a lot of mineral supplements on the market. Cattleman's Choice was the best option for Agri-Best Feeds to fill that gap and offer our customers a high quality product with ranch direct delivery," states Daryl Haidle, Distribution Manager for Agri-Best Feeds. "We have the ability to deliver Cattleman's Choice Mineral Supplement from one ton to a whole truckload. We can also mix and match with our other products like SweetPro, EquiPride/EquiLix, and Redmond's Natural Salt and bring everything to your ranch very quickly." With the addition of Cattleman's Choice Mineral Supplements, "we now offer a full menu of supplements," says Agri-Best Feeds Director of Operations, Scott Anderson. "There are very customized products available for each individual operation." The ability to customize a mineral package based on a forage sample or to include fly control is an exciting opportunity for producers to "bring the full grocery cart" to their ranch, in the words of Mitch Anderson, President of Performix Nutrition Systems.
Agri-Best Feeds offers a substantial distribution network which is why Mitch Anderson chose to work with the regional company. "The partnership is efficient and economical, it will improve both of our operations, and most importantly it helps the customer," says Mitch.
While cost and product quality are of course the utmost concern in choosing a supplement, Ranchers should keep in mind that as time goes on, it is their relationship with a feed distributor which will be the most valuable in making long term supplement decisions. Scott Anderson and Mitch Anderson make it clear that the focus is not just on selling a product, but rather providing superior products which satisfies a need for the customer and improves production of their operation.
In fact, in efforts to make sure he could best advise his customers, Scott recently toured the Cattleman's Choice production facility in Nampa, ID and also took part in several in depth training seminars to learn about the product. "They are high quality people, and this is a high quality product," Scott says of the experience. He is committed to ensuring that the staff at Agri-Best Feeds is highly educated on Cattleman's Choice and all of their products to ensure the customer receives the highest quality nutritional advice possible.
Cattleman's Choice Mineral is available for immediate pickup at Agri-Best Feeds Billings headquarters, 47N 15th ST in Billings, Montana, as well as ranch delivery across Montana and Wyoming.
Agri-Best Feeds got its start in 2006 when Irv Haidle introduced SweetPro Premium Feed Supplements at the NILE. Ten years later, Agri-Best Feeds has grown to a multistate distributor of feed supplements and received such recognitions as the 2010 Montana Family Business of the Year, number one national cattle tonnage seller of SweetPro Premium Feed Supplements, and a member of the SweetPro Million Dollar Club.
For advice on choosing the best mineral combination for your operation or on Cattleman's Choice Mineral Supplements please visit https://agribestfeeds.mycardsetter.com/ or call 1-866-601-6646.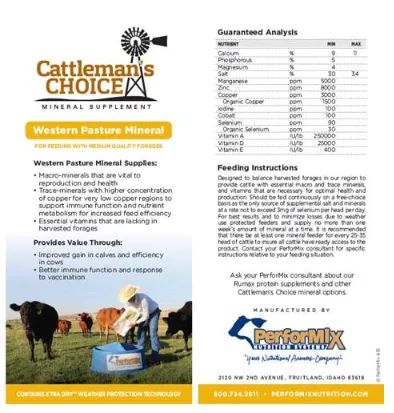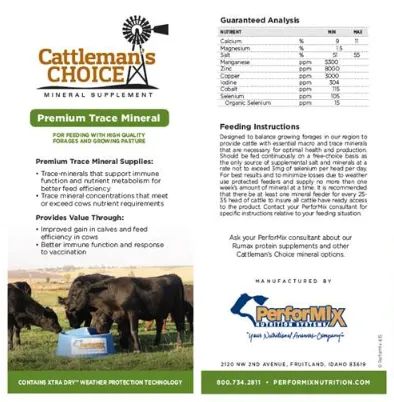 6/10/16 10:07
Feed Efficiency, SweetPro, Redmond, Agri-Best Feeds, cattle, minerals, supplements, cattle supplements, Cattleman's Choice, Cattleman's Choice Minerals, PerforMix, Boone Carter, Mitch Anderson, Daryl Haidle, Scott Anderson, Northern Ag, loose minerals
Content sponsored by Agri-Best Feeds